---
Founded in 1976 by John Corliss Sr. and John Corliss Jr, Trader John's Gun Shop llc has been serving the Monadnock Region and surrounding areas for nearly 50 years.
After the passing of John Corliss Sr. in 1980 the store continued to operate for many years under the leadership of John Corliss Jr. assisted by his wife Betty, their children, and later their grandchildren. Many of our regular customers witnessed their children grow, and later saw their grandchildren become part of the tradition. Many local hunters have also seen Trader John's become a generational family tradition as their childern have continued returning to the store.
After the sudden and unexpected passing of both Betty and John in mid-2021 the future of the Trader Johns Gun Shop llc became uncertain. We decided as a family to continue deer registration for the 2021 season and consider what the future would bring. During that time we experienced non-stop support from our loyal customers laced with encouragement and the hope that Trader Johns would remain open. That helped encourage us to open part time through the fall and winter 2021 season, and full time now once again.
Trader John's Gun Shop llc is under new management but remains in the family. It has been a long and stressful adventure but we are doing everything we can to ensure Trader John's remains open both now and for future generations.
We thank all our customers for your continued support and encouragment with an eye to the future. We appreciate every one of you.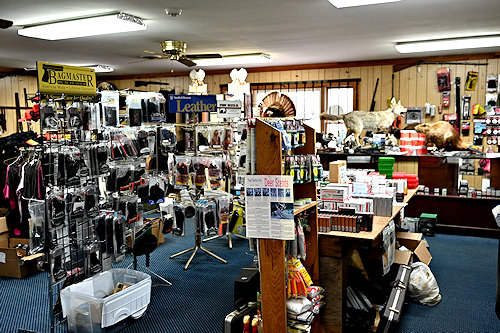 Firearms
At Trader Johns we carry a large variety of new and used guns.

Ammo & Accessories
We carry a full assortment of ammunition and accessories to meet every need.

Hours & Location
We at Trader John's invite you to pay us a visit.
Firearms
Ammo & Accessories
Licenses